Founder & Producer
Tom is a playwright, author of five books and 20+ year visual artist. His plays have been developed and produced at such venues as the Ensemble Studio Theater, HERE, Dixon Place, Theater for the New City, IRT Theater, Theater at the 14th Street Y, Theater Row, A.R.T.-NY and many others. He was the founding producer of the International Human Rights Art Festival (2017), the Amnesty International Human Rights Art Festival (2010) and a Research Fellow at DePaul University (2010). He has exhibited his artwork and spoken about his ideas throughout the United States, Canada, Europe, Turkey and the Middle East. www.tomblock.com
Curators of Dance
Oxana Chi is a German-Nigerian dancer, choreographer, curator, festival organizer, filmmaker and author. Her company Oxana Chi & Ensemble Xinren was founded in Berlin in 1991 and moved to New York in 2015. In 2018, she was listed in the Dance Enthusiast's A to Z of People who Power the Dance World. www.oxanachi.de
Dr. Layla Zami is an interdisciplinary academic, artist, curator and globetrotter, born in France of Jewish-Caribbean descent. She is currently Visiting Assistant Professor in the Performance + Performance Studies Graduate Program at Pratt Institute. www.laylazami.net
Oxana Chi and Layla Zami have performed across NYC and across the globe, and are delighted to bring international experience and creative input to IHRAF.
Special Projects Administrator
Noa is currently an undergraduate student at Columbia University as part of a dual bachelor with Sciences Po Paris in France. She is majoring in Human Rights and minoring in Psychology. She is interviewer for Ratrock Magazine, a publication promoting student-artists and involved in her campus' Amnesty International chapter.
In France, she was president of a local group of the movement Coexister, promoting social cohesion through interfaith dialogue, solidarity actions and awareness intervention.
Back in Paris, she will do a master in Cultural Policy and Management.
Official Videographer
Echoes of Incarceration will be creating the documentary film of our 2019 Festival at the Wild Project. Echoes of Incarceration is an award-winning documentary initiative produced by youth who are directly impacted by the criminal justice system. The project provides hands-on video production and advocacy training for young adults, and creates documentaries and video journalism pieces told from the life experiences of the filmmakers themselves.
Editor, IHRAF Publishes
Leah Block is an undergraduate student at New York University, studying English & American Literature with a minor in Creative Writing. In addition to reading and writing, Leah spends her free time debating on the American Parliamentary Debate Association (APDA) circuit. She is an aspiring Y.A. author, and has been published in the Chronicle of Higher Education. You can find her at www.leahblock.myportfolio.com/.
Social Media and Marketing Volunteer
Sneha Thayil is an international relations professional, working to promote inclusive, multidisciplinary methods to build peaceful and sustainable societies. Sneha has previously lived in Hong Kong, Malaysia, India, Singapore, Italy, and various cities in the United States. She most recently worked as a monitoring and evaluation consultant based in Somaliland for 2 years. Sneha holds a M.A. in International Relations from the Johns Hopkins School of Advanced International Studies and a B.A. in Political Science from the University of Chicago.
President
Tom is a playwright, author of five books and 20+ year visual artist. His plays have been developed and produced at such venues as the Ensemble Studio Theater, HERE, Dixon Place, Theater for the New City, IRT Theater, Theater at the 14th Street Y, Theater Row, A.R.T.-NY and many others. He was the founding producer of the International Human Rights Art Festival (2017), the Amnesty International Human Rights Art Festival (2010) and a Research Fellow at DePaul University (2010). He has exhibited his artwork and spoken about his ideas throughout the United States, Canada, Europe, Turkey and the Middle East. www.tomblock.com
Vice President
Dr. Kathleen Cavanaugh is currently a Lecturer of International Law in the Faculty of Law, Irish Centre for Human Rights (ICHR), National University of Ireland, Galway. She held the position of Chair of the Executive Committee of Amnesty International Ireland (2004-2010) and was a member of the International Policy Committee of Amnesty International. She has conducted trainings for governmental as well as non-governmental organisations throughout the Middle East (Yemen, Jordan, Egypt, Iran, Morocco, Syria, Lebanon, and Sudan), India, and the Republic of Ireland.
Robina Niaz founded Turning Point for Women and Families in 2004, the first non-profit in New York City to address domestic violence in the Muslim community. A social worker, an activist and a fierce advocate of Muslim women's rights, Robina has spoken extensively against domestic violence locally, nationally, and internationally, and has received numerous honors and awards. Robina was named a CNN Hero in 2009, and also featured as one of the 500 Most Influential Muslims (2009) by the Royal Islamic Strategic Studies Center/Georgetown University. Robina has also received awards from FEBA (Federation of Balkan American Associations), Chhaya CDC, State Senator Eric Adams, Women's eNews, Bank of America, Queens Council for Social Welfare and NASW-NY, NEMWA (North East Muslim Women's Association), Women In Islam, Union Square Awards, Open Society Institute and the Queens Borough President.
Rabbi Abie Ingber is a pioneering advocate of immigrant and refugee rights and interfaith collaboration. For over 30 years, he served as the executive director of the Hillel Jewish Student Center at the University of Cincinnati. In 2008, he founded the Center for Interfaith Community Engagement at Xavier University and still serves as its executive director. He is also an adjunct professor in the University's Department of Theology, and Special Assistant to Fr. Michael Graham, S.J., President of Xavier.
Mashuq Mushtaq Deen is an award-winning, queer theater artist and a resident playwright at New Dramatists (class of 2022). Deen's plays have been produced and/or developed by New Dramatists, The Public Theater, NYTW, New Harmony Project, InterAct Theatre, Page73, Ma-Yi, Hemispheric Institute of Performance and Politics, Georgetown University, BEAT Festival, PACE University, Hampshire College, Averett University, Dixon Place, Passage Theatre, Queens Theatre in the Park, Tofte Lake Center, Berkshire Fringe. Awards and Grants: Helene Wurlitzer's Chesley/Bumbalo Foundation Award, MacDowell Colony's Arch an Bruce Brown Fellow (2015-16), New York Foundation for the Arts Fellow; Bogliasco Foundation Fellow (2016), Helene Wurlitzer Foundation Fellow (2016). He earned his MFA from the Actors Studio Drama School/New School for Drama.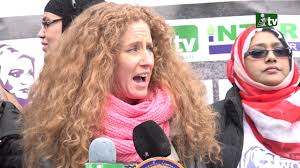 Michelle is the Executive Director of the Muslim-Jewish Solidarity Committee. She studied music theory and audio engineering at Hunter College, the Aaron Copland School of Music, and the Institute of Audio Research. After more than a decade as a music teacher, she joined the Muslim-Jewish Solidarity Committee at its infancy. She has been instrumental in its growth, the organization has now become a community of thousands. Michelle focuses her efforts on expanding programs and community outreach, creating volunteer opportunities, and speaking at events throughout NYC. One of her current initiatives is a program called Compassionate Conversations, to deepen relationships within the MJSC while addressing wide-spread issues facing our society today with respect and empathy. Michelle is a We Are All New York fellowship alumni.
Laura Barbieri is the Director of Development for GENYOUth, where she is responsible for expanding revenue streams related to corporate and foundation partnerships, individual giving, and special events –and to amplify impact and awareness.
Most recently, Laura took on a role at Toys "R" Us where she was tasked with reimagining the company's giving strategy and deepening engagement for cause marketing campaigns that generate millions of dollars for nonprofit partners.
Prior to her stint in corporate America, Laura worked for a diverse mix of nonprofits including Foundation Center, Amnesty International and Global Citizen.
Laura holds a M.S. in International Development from the New York University and a B.A. in Journalism from University of Massachusetts Amherst. She has written for sites including the Feminist Wire and the Huffington Post.
Secretary
Layla is an innovative academic and artist working with words, music, performance, and video. She was born in Paris, France, of Jewish-Russian-German and Afro-Caribbean-Indian descent.
Layla holds a Ph.D. in Gender Studies from Humboldt-University, Berlin and a M.A. from the Sciences Po Paris School of International Affairs. As a Resident Artist with Oxana Chi & Ensemble Xinren, Layla has performed in theaters, universities and festivals across the globe. She currently serves in the Dance/NYC Research Task Force and Symposium Programming Committee. She was Assistant Producer at IHRAF from October 2017 to December 2018.
Layla is currently a Visiting Assistant Professor at Pratt Institute, Performance + Performance Studies MFA Program.
www.laylazami.net